OWLVIEW CERTIFICATION SOFTWARE
OWLView Certification software is included FREE with all Fiber OWL 7 series OLTS. Data can be downloaded from the meter directly into the software with the download cable provided with your device. Once downloaded the data can be selectively viewed, printed, and saved using the intuitive, user-friendly graphical user interface.

WIN MORE BIDS!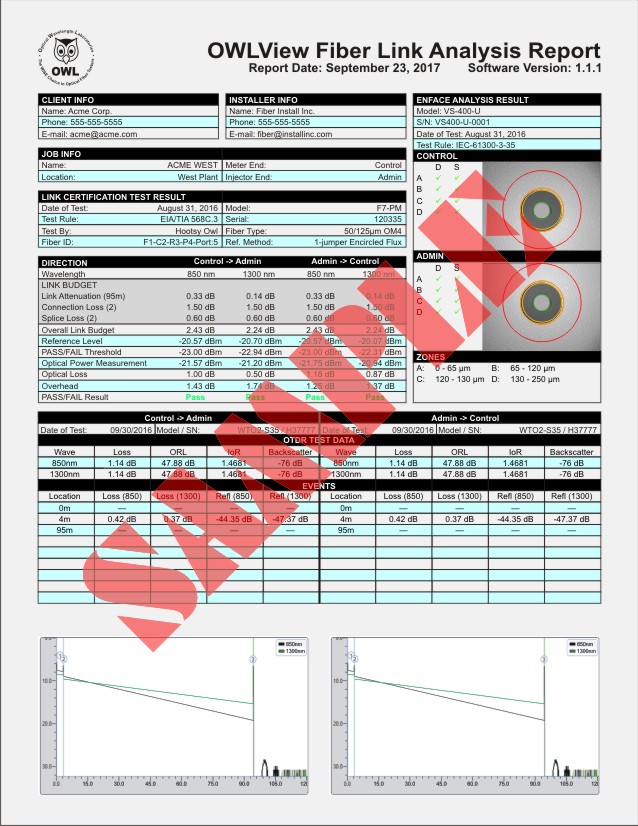 Tri-report. Sooner or later, technicians will be required to provide their clients with comprehensive certification reports that include link certification results, OTDR traces and events, and endface analysis.

OWLView software gathers together all three of these critical data and formats them onto one single-page "Tri-Report".

Link certification provides clients with a PASS/FAIL test result, ensuring that fiber links are installed and tested according to official industry standards, including TIA-568 and various levels of Ethernet. When used with a corresponding light source, Fiber OWL 7 certifiers allow users to certify multimode and/or singlemode optical fiber links.

Many clients are also requesting OTDR traces for the purpose of "link characterization"; i.e. a visual "roadmap" of the fiber link. OTDR traces include a graphical representation of the fiber link that shows the different "events" in the fiber link including patch panels, and event tables show the relative loss of individual events. OWLView software allows users to import OTDR traces taken with OWLTrek 2 OTDRs, and appends the traces to the link certification report.

Clients are also interested in seeing the quality of their fiber endfaces at the time of testing. Endface analysis digitally inspects a fiber endface image for scratches and defects that may adversely affect data transmission. OWLView software includes PASS/FAIL endface analysis based on the popular IEC 61300-3-35 endface inspection standard, and can analyze JPG endface images taken with any fiber videoscope.

OWLView software requires a Pentium-class PC or better running Windows XP or later.

Click here to download OWLView software.